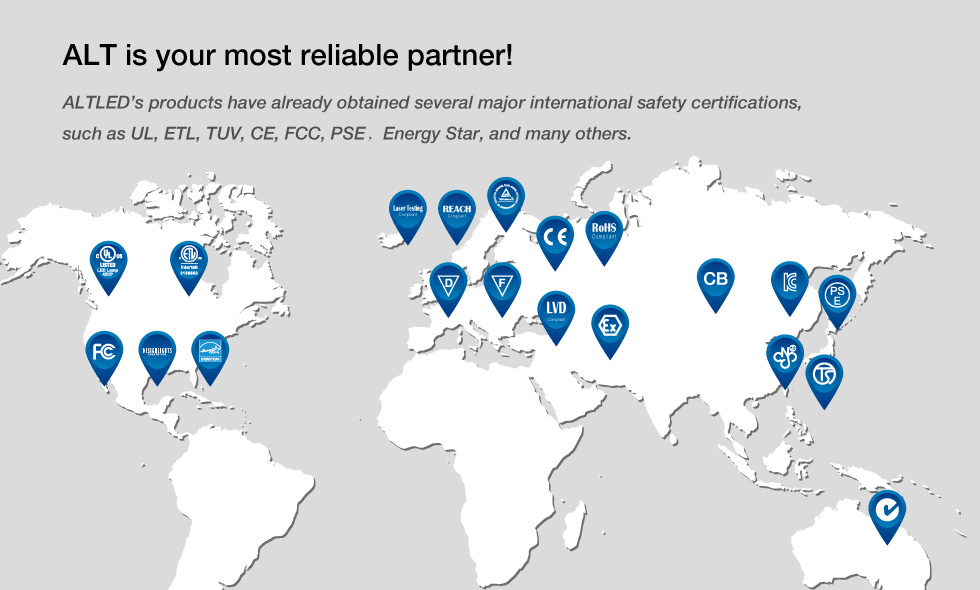 ATEX Product Certification
The ATEX Directive applies to all electrical and mechanical equipment, components, protective systems, and specified safety-, control- and regulating devices intended for use in or in conjunction with potentially explosive atmospheres and made or sold within the European Union. This includes electrical and mechanical equipment and protective systems for use on surface or mining areas. A potentially explosive atmosphere is composed by air mixtures of gases, vapors, mists or dusts, which can ignite under certain operating conditions.

UL / cUL

UL introduced this new Listing mark in early 1998. It indicates compliance with both Canadian and U.S. requirements. The Canada/ U.S. UL Mark is optional. UL encourages those manufacturers with products certified for both countries to use this new, combined mark, but they may continue using separete UL Mark for the United States and Canada.

ETL / cETL

The ETL Listed Mark is proof of product compliance (electrical, gas and other safety standards) to North American safety standards. Authorities Having Jurisdiction (AHJ's) in 50 states and Canada and retailers accept the ETL Listed Mark as proof of product safety.

TÜV

TÜV Product Service provides testing, certification, qualification, training and consultancy services to a range of industries covering the Aerospace, Defence, Medical & Health, Radio & Telecoms, Rail, Trade, Electronics & Consumer sectors.

They hold many appointments and accreditations to assess and certify products' compliance with regulations and thereby facilitate their access to numerous markets throughout the world. They can also issue a wide range of internationally-recognised certification marks that will demonstrate products' and services' quality and reliability to customers.

Energy Star

ENERGY STAR is a U.S. Environmental Protection Agency (EPA) voluntary program that helps businesses and individuals save money and protect our climate through superior energy efficiency.

To maintain consumer trust and improve the oversight of ENERGY STAR certified products, homes, and commercial facilities, EPA has implemented third–party certification requirements and testing.

For Products: The ENERGY STAR qualification process requires that products be tested in EPA–recognized laboratories, with the results reviewed by an independent, accredited certification organization. In addition to up–front testing, a percentage of all ENERGY STAR products are subject to "off–the–shelf" verification testing each year. The goal of this testing is to ensure that changes or variations in the manufacturing process do not lead to products failing to meet ENERGY STAR efficiency requirements.

RCM

The three existing compliance marks (C-Tick, A-Tick and RCM) are consolidated into a single compliance mark—the RCM. The single compliance mark commenced on 1 March 2013.

RCM mark is proof of product that is compliant with applicable ACMA technical standards—that is, for telecommunications, radiocommunications, EMC and EME.

A supplier who intends to supply devices that are required to be labelled under an ACMA Labelling Notice must register on the ACMC database as a 'responsible supplier'.

FCC

Electronic products and electric products, which will be exported to America Market, need FCC certification and are labeled with FCC identifier. FCC is an abbreviation of Federal Communications Commission.

CE

CE is short for "Confomite Europeene" in French and CE mark is the quality and safety symbol of equipments and products in European union countries. Exported to European Union markets, all the products and equipments must comply with all the relative different CE directives to be marked by CE symbol. Regarding the electric and electronic products such as household appliances, luminaries, audio and video products, IT products, electric measure equipments, electro-motion tools, they must be complied with European Union directives if sold on the European Union markets, such as EMC directive and LVD directive.

PSE

The PSE Mark is a mandatory mark for Japan according to the Electrical Appliance and Material Safety Law (DENAN). It is administered by Japan's Ministry of Economy, Trade and Industry (METI). Products regulated under the DENAN law are categorized as specified products and non-specified products. Specified products require certificates from a conformity assessment body and the application of the PSE Mark, while non-specified products require mandatory compliance declared via application of the self-affixed PSE Mark, but not necessarily via certificates from a METI conformity assessment body. The UL family of companies is accredited by METI to provide the mandatory Japanese PSE Mark.

CNS (Chinese National Standards)

As the reputation of being one of powerful LED manufacturing engines in the world, Taiwan Bureau of Standards, Metrology & Inspection (BSMI) has a set of high standard regulation for LED street lighting called Chinese National Standards (CNS). In order to acquire CNS 15233 Mark, all products must go through aging performance examination, which tests the light bulb's light depreciation will not exceed 8% after continuous light-on for at least 4,000 hours. ALT is the first high power LED lighting manufacturer to obtain the CNS Mark in Taiwan.

C-tick

Compliance with the Australian EMC regulations are mandatory and apply to almost all electronic products supplied to the Australian market. Application of the C-Tick mark signifies compliance with appropriate Australian EMC standard. Requirements are currently limited to mains terminal disturbance voltage measurements (RF emissions traveling along the AC power lines) telecommunications terminal disturbance voltage measurements (RF emissions travelling along the telephone lines) and radiated RF emission measurements (RF emissions emanating from the device through the air).

CNS - TS Mark

CNS TS certification is a test for anti-explosive lamps issued by the ITRI (Industrial Technology Research Institute in Taiwan). The scope of test include construction inspection, impact resistance test, temperature measurement, thermal shock test, torque test, tension test, and explosion pressure tests, etc. ALTLED® E01 passed the CNS EX IIB T5 testing standards, which means it can be used in mines, chemical plants and other hazardous places.

KC Mark

Aiming at solving the overlaid certifications in Korea, Korean Ministry of Knowledge Economy (MKE) and Korean Communications Community (KCC) had released a joint announcement on Aug.23, 2011 which announced that MKE would be responsible for the safety certification according to Korean safety administration law for electrical appliances while KCC would be responsible for the EMC certification for electrical appliances and telecommunication devices (including wire or wireless). The law has been taken into effect since Jul.1, 2012.

From this date, the current KC certification has been divided into 2 parts: KC safety certification and KCC EMC certification. All products involved in EMC have to be applied for 2certificates at the same time. However, the test contents remain the same as before. Moreover, both KC approval no. and KCC identification code no. have to be printed under KC logo on the rating label.

CB

The IECEE CB Scheme is the world's first truly international system for mutual acceptance of test reports and certifications dealing with the safety of electrical and electronic components, equipments and products. It is a mulitilateral agreement among participating countries and certification organizations.

LVD

LVD directive is for the relative characteristic testing of product safety. LVD directive is principally to evaluate the safety performance of products. It includes, product marking, clearance and creepage distance, provision of electric shock, dielectric strength, heating and humidity condition, resistance to fire, construction and mechanical strength etc.

Laser Testing

LED/Lamp manufacturers use the IEC 62471 standards to assess the radiation of their LEDs/Lamps for potential hazards. To accommodate the removal of LED sources from EN 60825-1:2007, the EN has published a standard (EN 62471-1:2008) to assess the risk of excessive radiation to eye from lamp system & lamp source. This relatively new EU standard is better reflecting the needs of LED source hazard assessment and labeling. This photo-biological safety evaluation has been becoming highly concerned with LED used products, particularly for luminaries and electric toys.

Rohs

ROHS is the abbreviation of the Restriction of the use of certain hazardous substances in electrical and electronic equipment. It restrict the six hazardous subsances such as: Lead (Pb), Mercury (Hg), Chromium (Crvi), Cadmium (Cd), polybrominated biphenyls (PBBs) and polybrominated diphenyl ethers (PBDEs) now, and will restrict more hazardous substances in the future.

It has been raised by European parliament and council, and have been put into enforcement since July 1st, 2006. The eletric and electronic products which contain hazardous substances and PBBs, PBDEs, are forbidden to sell in the European market.

REACH

Intertek's REACH (Registration, Evaluation and Authorization of Chemical Substances – EC1907/2006) certificate program provides a REACH certificate of compliance for a specific product whether it is a preparation or an article. The certificates provide assurance to customers that a product has been reviewed by a third party for REACH compliance and offers traceability of compliance. As a standard part of the REACH certificate program, the client's REACH compliance data will be maintained within an Intertek database. Contact information for Intertek global REACH compliance teams will also be provided so product customers will be able to contact them to confirm product compliance.

Suitable for installation in lighting fixture with flammable surface.

Suitable for installation in lighting fixture with certain temperature limitation.

DESIGNLIGHTS

The DesignLights Consortium® (DLC) Qualified Products List (QPL) Members, who are utilities and energy-efficiency programs throughout the United States, have been asked by customers and suppliers to provide incentives for solid-state lighting (SSL) fixtures, most of which are NOT ENERGY STAR labeled. These Members are interested in providing incentives for high-performing LED products which meet individual sponsor criteria, since 2009.